Singles holidays with a difference
Interested in singles holidays with a difference? Our Italian cooking courses make ideal singles holidays for people that want to go it alone but may hate the thought of being on their own. They also provide a welcome relaxing alternative to the often uncomfortable atmosphere of conventional singles holidays.
Our Italian cooking holidays offer you an opportunity to join a group of like-minded people for a wonderful week at beautiful Casa Ombuto, a recently restored large Tuscan villa set in a stunning and tranquil location in the hills of the Casentino valley some 50km south of Florence. The perfect venue for stimulating and relaxing singles holidays.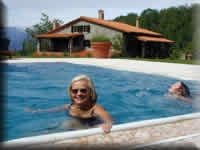 The house lies on a large estate consisting of woods (Chestnut, Walnut and Oak) and has all of the facilities to make for a great singles holiday. Three rivers flow through the property making it an ideal location for walks, picnics or swimming in the rivers. Guests can spend their free time around the estate or pool or take in some of the world famous historical sites in the area. The solar heated swimming pool with Jacuzzi, hydromassage, and jet stream features offers the perfect relaxation after a hard days cooking.
Unlike many singles holidays, you will meet new people effortlessly as you immediately become part of a mixed group of up to 14 students from many different countries and walks of life. You will spend an unforgettable week together immersed in the culture and lifestyle of Tuscany. You will learn to cook authentic Italian dishes in an informal and friendly environment, and learn the passion of the Italian kitchen, while at the same time making new friends and having fun along the way.
If your idea of singles holidays is learning a fascinating culinary art in a beautiful and tranquil setting with a group of like-minded people, then a cooking course at Casa Ombuto is the perfect choice for you.
Does this sound like your idea of a better singles holidays? Get more information on our singles holidays cooking course, including itineraries and prices, here.
Cookery Courses in Italy, Cooking classes in Italy, Cooking classes in Tuscany, Cooking holidays in Italy, Cooking lessons at Casa Ombuto, Cooking lessons in Tuscany, Cooking schools in Italy, Cooking Schools in Tuscany Italy, Cooking schools in Italy, Cooking vacations in Italy, Creative holidays in Tuscany, Culinary schools in Tuscany, Italy cooking schools, Learn to cook in Italy, Singles holidays with a difference, Singles vacations in Italy, Cooking schools in Italy, Tuscany cooking schools